A Sweet Story
A Business Life That's Sweet…
Mrs. Katerina was born and grew up in Lapithos, a village in the northern part of Cyprus, now under Turkish Occupation.
She used to spent hours of her childhood watching her grandmother, a well respected housewife of the old days, make spoon sweets and then proudly present them to the friends and relatives of the household.
After the Turkish invansion in 1974, Katerina and her family migrated to Australia and everyone worked hard to build their new life.
To her parent's delight, Katerina passed her HSC (Higher School Certificate) and won a place at the local university to study mathematics and fine arts. In her spare time she taught Greek to other Cypriot children who had settled in Melbourne.
But she never forgot Cyprus, or her grandmother, and in 1981 she decided to return to her beloved country and live with her grandmother.
Not able to forget her childhood, that was filled with mouth-watering fruits, clear glass bottles with sweets of shiny syrup and the smell of sugar and spices boiling in pots, she decided to learn from her grandmother the art of making spoon sweets.
Katerina gave away her jars of spoon sweets to friends -including her grocer- who was so impressed that he immediately placed an order! Large supermarket chains soon followed.
The business developed so well that in 1997, the name Katerina was now synonymous with the noble spoon sweets and was well known all across the island.
In 2003, the family had decided that it was time to expand. They built a traditional-styled factory with European standards, such as HACCP and ISO 22000.
The company soon gets high approvals, such as the 1st prize of the Agriculture Department, and starts exporting the products to other countries.
Today Katerina makes more than 40 different types of spoon sweets, jams, marmalades, natural fruit squashes, liqueurs and other traditional foods. Without using any colours or preservatives, her sweets are made with the old ways for a modern consumer. You too can bring tradition and sweetness to your home by buying Katerina's homemade spoon sweets.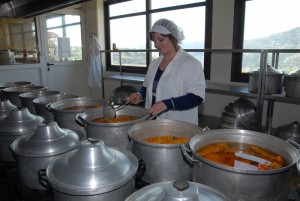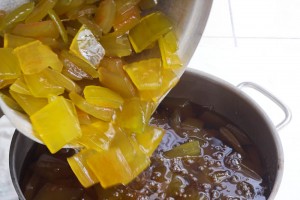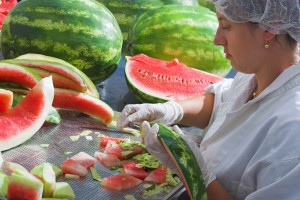 Timeline
1981
Katerina Christoforou returns to Cyprus from Australia where she migrated to after the Turkish invasion of Cyprus. Back home, her grandmother teaches her how to make traditional homemade spoon sweets (fruit preserves).
1992
Katerina first makes her grandmother's art her hobby and then her profession by forming the company with the name Katerina Home Made Sweets. She makes sweets in the small kitchen of her home without any initial capital or long term plan for the future.
1998
By now, Katerina is confident in her abilities and using her imagination she launches innovative spoon sweets like prickly pear, garlic, onion, mushrooms and taro roots.
2001
The company launchesa new line of spoon sweets without added sugar, ideal for diabetics and for those who wish to maintain a slim silhouette.
2003
The company is awarded from the Ministry of Agricultural, Natural Resources and Enviroment.
2004
The business is transferred to Doros village in Limassol and becomes a modern factory with European specifications. It becomes a popular destination both for tourists and locals who visit Katerina daily to watch the production of spoon sweets and purchase their favorite traditional sweets.
In the same year, the company is certified with HACCP (now ISO22000), applying a system for reducing the risk of safety hazards in food.
2006
Katerina launches a line of  her traditional products in small, decorative jars as offers to guests at weddings and christenings. They become highly popular and are now a favorite choice for party favors.
2010
The company wins the Best Cypriot Product award at the Time Out Eating Awards.
2011
Katerina Home Made Sweets is selected along with nine other companies to represent Cyprus at the International European Business Awards. There, the company is selected as one of the 110 best businesses in Europe. At the awards ceremony in Barcelona, the company was the only one to be honoured with the prestigious and coveted Ruban d' Honneur.
2012
Katerina is honored with the award 'Female Businesswoman of the Year' at the Cyprus Business Woman of the Year Awards.
2015
The company starts producing traditional liqueurs.
To be continued…